Dear colleagues and friends,

The SINERGY (Serbian Congress on INtErventional cardioloGY, cardiovascular imaging and medical therapy) educational platform has been envisioned to facilitate the exchange of ideas and experiences through peer-to-peer discussion and LIVE case demonstration, with an ultimate goal of improving patient care in the region of Southeastern Europe. To achieve this, the annual SINERGY meeting has traditionally brought together professionals from East (India, China and Japan) and West (Europe, North and South America), as well as from countries from our broader region, including Bulgaria, Bosnia and Herzegovina, Croatia, Greece, Hungary, Macedonia, Montenegro, Romania, Serbia and Slovenia. Hence the underlying motto of SINERGY: East meets West in Serbia.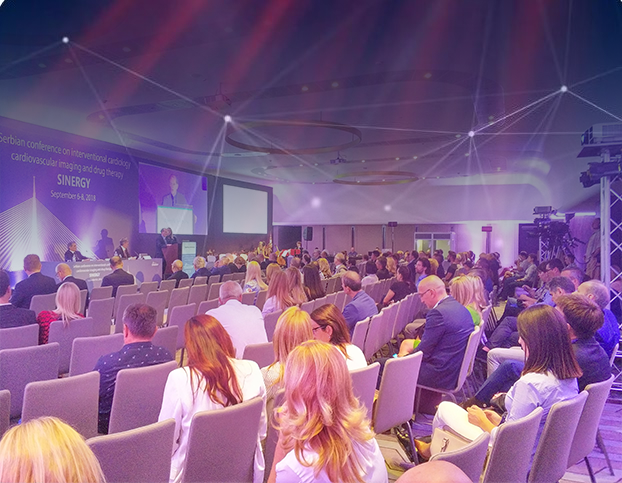 The conference program annually relies on the contributions of well-known speakers and operators primarily in the field of interventional cardiology, while at the same time promoting collaboration with cardiac surgeons, imaging specialists and the entire team caring for patients with heart disease, based on a common goal, to improve patient care. In the spirit of SINERGY, specialists in cardiovascular interventions, imaging and drug therapy are cross-linked within the framework of joint, case-based sessions, with multidisciplinary expert participation.
Our traditional guest faculty has included such leading experts in interventional cardiology as Antonio Colombo, Marie-Claude Morice, Yves Louvard, Shao-Liang Chen, Sunao Nakamura, Gerald Werner, Stefan James, Praveen Chandra and Javier Escaned, who have in the past helped deliver a comprehensive educational program based on state-of-the-art lectures, case-based discussions and LIVE demonstrations.
In addition to the interventional cardiology-based program, SINERGY traditionally features dedicated cardiovascular imaging sessions, as well as multidisciplinary plenary sessions focusing on the most recent European Society of Cardiology guidelines.
SINERGY: East meets West in Serbia
The SINERGY scientific program is each year developed in collaboration with the leading members of the European Association of Percutaneous Cardiovascular Interventions (EAPCI), while focusing on the overall aim of providing high-quality education at the regional level, and establishing a network of cardiovascular centers of excellence leading to collaborative research projects and expansion of educational and training opportunities in the region of Southeastern Europe.
Join us in our quest to improve patient care by facilitating access to the highest-level education in cardiology!