Following the trends of major congresses in the field of cardiology in Europe, which after two pandemic years held their first editions with the LIVE presence of participants, we inform you that the SYNERGY 2022 will be held in its traditional format at the Crowne Plaza Hotel on September 8-9th, 2022. Parts of the congress will be broadcasted digitally on the official SINERGY platform.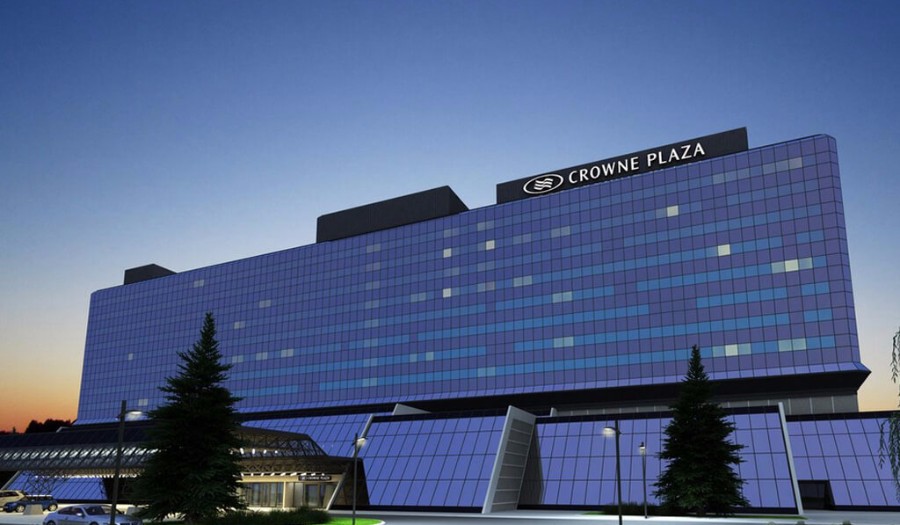 Hotel Crowne Plaza Belgrade
Address: Vladimira Popovica 10,
Belgrade 11070, Serbia
Phone: +381 11 2204004
www.ihg.com/CrownePlaza/Belgrade
EMAIL
offi ce@sinergy-belgrade.com
TECHNICAL SECRETARIAT
MD, Zlatko Mehmedbegović
zlatkombegovic@gmail.com
+381 60 66 787 61
MD, Dario Jelić
duga13@gmail.com
+381 64 129 31 00
MD, Đorđe Mladenović
mladendjolem@gmail.com
MD, Lazar Travica
lazartravica18@gmail.com
TECHNICAL ORGANIZERS
TCA TRAVEL AGENCY
FAX/TEL
+ 381 11 32 38 514
MOBILE
+381 63 241 787 from 09-17h
FAX/TEL
+ 381 11 3238 809
EMAIL
tcasinergy@beotel.rs
CONTACT
Mobile: Mrs. Katarina Kovacevic + 381 63 300 719
Mobile: Mrs. RadmilaKovacevic +381 63 8494 145
CURRENCY
The Serbian currency is Serbian Dinar (abbreviated as RSD). The current exchange rate is about 118 RSD for 1 Euro. Credit cards (VISA, Euro card, MasterCard, American Express, Diners Club)
are accepted in most shops. Automated Teller Machines (ATMs) and Exchange offices are also available in the Hotel. For detailed information contact Hotel reception.
PUBLIC TRANSPORTATION
Bus lines 68, 95, as well as tram lines 7, 7L, 9, 11, and 13, connect the Hotel with the City. The one-way tickets are available in the buses and trams (cost 150 RSD, app. 1.2 Euro), and also
the multiple-use tickets can be acquired at kiosks in the front of the Center. Taxis are available throughout the City of Belgrade, and also in front of the Hotel.
LANGUAGE
The official language of the Conference is English.
WiFi
Free WiFi is provided for all conference participants. Connection details to be provided on-site.
WEATHER FORECAST
During the three days of the conference mostly sunny weather is expected, with average daily temperatures in the month of September, ranging from 13 low-24 high °C. Check local weather at accuweather.com
OFFICIAL TRAVEL AGENCY
For hotel reservations and travel arrangements please contact TCA travel agency
Ms. Radmila Kovačević or Ms. Katarina Kovačević,
Office phone: +381-11-3238-514 or +381-11-3238-705
REGISTRATION FEE:
Regular fee 150 EUR
Fellows fee 75 EUR
Nurse/Technician/Exhibitors 50 EUR
Online access only 50 EUR
Students FREE
Preregistered participants can pick up their ID tags and conference material at the registration desk. Registration gives you access to scientific content and congress-related materials that will be provided for every participant upon registration at the venue.
Registration fee for all on-site attendees allows access to scientific sessions, includes congress promotional materials, lunch box, coffee, and refreshments during the congress hours.
Sinergy congress does not offer attendees any sports, leisure activities, or gala dinners to participants.
The conference program is accredited by the Medical Council of Serbia as an International meeting, decision 153-02-475/2022-01, number A-1-1544/22 with 15 KME points for lecturers and 10 KME points for attendees.
Certificates of attendance will be available for the registered participants from 12 PM on Friday, September 9th, at the registration desk. Also, digital versions in PDF may be provided, as per request, after the meeting.