A 42 years old patient complains of chest pain on exertion for last 6 months. TEE shows normal LV with no wall motion abnormalities.
Fisk factors for CKD: obesity, positive family history for CKD.
After the positive stress test patient is referred for coronary angiography.
ECG:
Beginning of stress test

End of stress test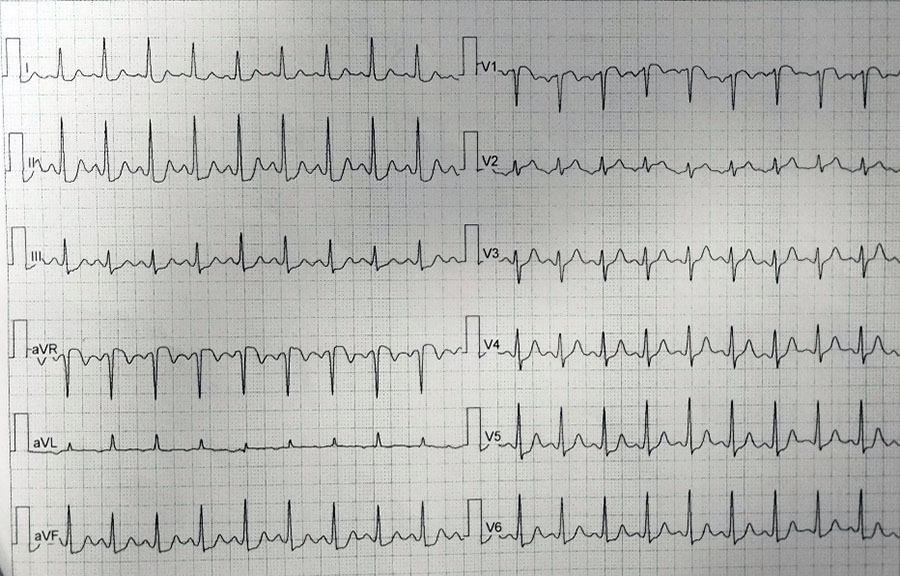 Coronary angiography:
Due to suspected SCAD patient was hospitalized. Repeated coronary angiography at 2 weeks showed no changes.
IVUS: dissection and intramural haematoma in LAD.

IVUS-guided PCI was done:
DES 3.50×30 mm @ 12atm.
False lumen covered with stent.

Stent optimisation with NC baloon.



ECHO: normal LV with no wall motion abnormalities.
After PCI patient is stable, no chest pain.
Therapy on discharge: ASA, Clopidogrel, b-blocker, ACEi.
Authors: dr Vlada Zdravković, dr Dušan Vulović, dr Đorđe Stevanović, UKC Kragujevac
Would You do PCI without intravascular imaging?